Benefits of Outsourcing Data Processing Services in The Finance and Banking Sector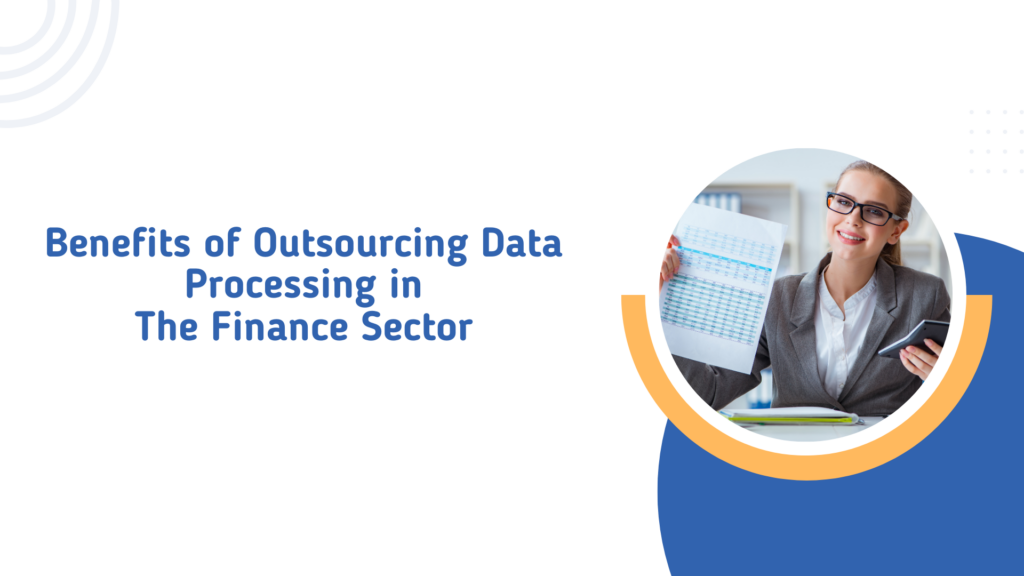 Whether it's a small or large-scale business data is the key to survival for every business type. A bulk volume of data is generated every day as a result of various types of organizational processes. The financial sector plays an important role in individuals and businesses looking for different financial services. A lot of data in large volumes is being processed in the finance and banking sectors daily and the finance sectors are facing many challenges daily to manage data and extract the correct information from it.

Data processing is the process of converting information from raw data into a useful and understandable format. It enables information to be stored in an easily accessible format. Data processing services comprise different types such as form processing, order processing, invoice processing, check processing, and much more. Financial institutions and banks are facing a lot of pressure from customers to provide better services without delay. Also, customers at the other end expect their needs to be fulfilled at any time from any place. Financial institutions have a huge amount of data to process and doing this task with an in-house team becomes a hectic job for the concerned. This is where business process outsourcing services play a role. The BPO service providers help financial and banking institutions to meet the requirements with ease.
The banking sector is constantly changing due to the new regulations. Hence outsourcing data processing to a data processing company will be the best option for the banking and financial sector.
Let us see the benefits that the finance industry enjoys by outsourcing data processing service's
Improve customer relation
Banks and the financial sector face great difficulties in delivering high levels of customer satisfaction. This is because they are not able to focus on the core task as they are dealing with a non-core task like data processing. Outsourcing this task to a data processing company helps the banking and financial sector to focus more on their customers, hence offering enhanced services to their customers and thereby improving customer relationships. Outsourcing allows the banking and financial sectors to free up their resources and invest in innovative solutions.
Maximize Efficiency
By outsourcing data processing services, banking and financial sectors can tap into a pool of dedicated and creative professionals who are skilled in handling any type of data processing task. Outsourcing data processing services is very effective as outsourcing companies use the latest tools and software to complete your work and conduct a data cleansing process to produce the work without any error. As a result, banks and financial institutions can provide error-free and quality services to their customers. It helps improve the competitiveness, efficiency, and profitability of banks and financial sectors.
Save on resources
Banks and the financial sector can save money and resources by outsourcing non-core processes, as they do not need to hire or train staff for these tasks. Hiring and training staff for such a non-core task can be costly in terms of time and money. By outsourcing data processing tasks, banks and the financial sector only pay for what they need, which gives them more flexibility in terms of costs. Outsourcing non-core tasks allow a bank and financial concern to focus on its core activities and provide enhanced services to customers. This frees up resources and allows them to invest in innovative solutions.
Enhance Innovation
Outsourcing data processing enables banks and financial sectors to focus more on core activities. This will help drive innovation through increased competition. By spending less time on processes that do not directly generate revenue, employees can focus on work that is more advantageous to customers, the bank, and the financial sector as a whole. By concentrating more on core aspects, banks and financial institutions can upsurge their competence and productivity, leading to increased profitability.
To conclude, outsourcing data processing is necessary to help the banking and financial sectors to focus more on their operations without making more investments. By saving time and money on internal resources, the financial industry can use its resources for the expansion of its business. Through this, banks and the financial sector can enjoy smooth and hassle-free financing for their customers. Outsourcing not only helps banks and the financial sector retain their customer base but also brings in new business due to increased customer satisfaction and improved brand reputation.
India Data Entry Help is the best choice for your data processing requirements. We have an experienced and trained data analysis team who can provide top-notch services without making any compromises on quality. We ensure the total confidentiality of client data and offer services at highly affordable prices.
Contact our team at [email protected] so that we can discuss your data processing needs in detail.