Cost Savings and Beyond: The Financial Advantages of BPO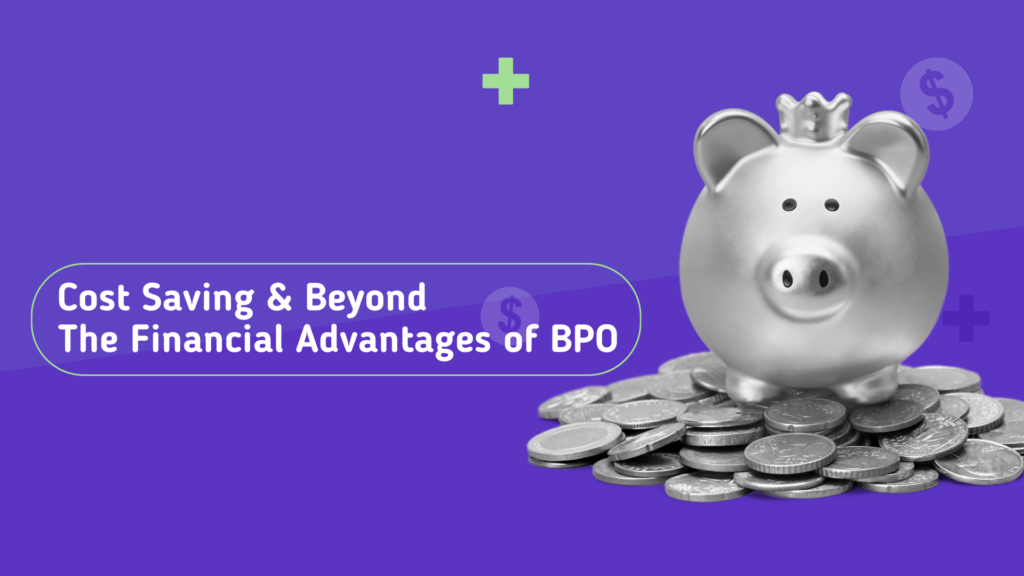 In the current financial scenario, those businesses functioning in the financial and banking sectors are eagerly seeking innovative strategies to maintain their competitive edge. One of those strategies that has effectively emerged to prominence is Business Process Outsourcing or BPO in Finance and Banking. Banking outsourcing services and Finance BPO services have become the major factors of modern financial institutions.

So, let's get into the world of BPO in finance and banking and analyze how it can change the very essence of your financial organization's operations. Keeping Banking outsourcing services and finance BPO services at the vanguard, let's unearth the complexities of this strategic move, giving insight into its transformative potential in a sector that thrives on efficiency, precision, and unwavering customer trust. So, now delve deep into the multifaceted benefits of outsourcing banking services, focusing on Financial Data Management Outsourcing and Banking Operation Outsourcing.
Financial Advantages of BPO
The financial sector is burdened with intricate operational tasks, from account management to compliance and customer support. By embracing Banking Outsourcing Services, businesses can optimize their significant operations. This leads to improved efficiency, letting your internal teams focus on strategic facets of your business. Capitalizing on the time difference, clients depend on offshore BPO partners to complete overnight projects, including market data analysis, which helps your resources to keep projects moving as per the schedule
Cost Savings and Scalability
Outsource banking services, and you will attain significant cost advantages. Because it mitigates labor costs, infrastructure expenses, and overheads. By approaching contractors, businesses can attain a level of expertise or specialization without the financial burden of a long-term employee commitment. Outsourcing on a contractual as-needed basis is usually a fraction of the expense of managing specific business processes internally with dedicated employees
Focus on Core Competencies
Outsourcing non-core functions, including Financial Data Management Outsourcing, benefits financial organizations. By assigning data management tasks to professional BPO service providers, you free up your team's time and resources. This enables your staff to focus on your core competencies, such as financial planning, risk management, and customer relationship management.
Risk Management and Compliance
In the strictly supervised financial sector, compliance and risk management are essential. Business process outsourcing service providers focusing on finance are acquainted with industry laws and ensure adherence to them. This proficiency reduces the risk of compliance violations and related penalties, protecting your organization's esteem and financial health
Enhanced Customer Service
The financial sector highly relies on the trust of customers. Outsourcing customer support services through Banking Operation Outsourcing, financial organizations can offer constant support to clients. This not only enhances customer satisfaction but also improves the organization's esteem, ultimately resulting in accelerated business opportunities.
Technological Developments
BPO service providers often invest in advanced technology and tools, which may be unaffordable for individual financial organizations. Utilizing these technologies like AI-backed analytics and blockchain, you attain a competitive edge and access to innovative solutions that can change your operations.
Most organizations, specifically those with a tight budget, find it difficult to seek a professional accountant or a chartered bookkeeper. An ideal solution for this is finance process outsourcing. Businesses benefit from expert advice at a fraction of the expense through outsourcing. They gain professional guidelines in navigating the latest accounting trends, practices, rules, and methods to streamline internal processes.
Prevent Time-off and Turnover Issues
BPO services also allow you to reduce staff time-off and turnover problems. Every member has a crucial role in the success of your firm. Whenever an employee takes a leave, vacation, resigns, or is sick, it stresses your existing employees with workload and can cause extra challenges. While outsourcing finance and accounting services to an external provider, you don't have to face such issues. Everything will be managed effectively by your service provider.
Moreover, the expense of employee turnover is remarkably high. It impacts team morale, continuity, and institutional memory. Furthermore, devoid of a service provider, you might be required to employ a recruiter to find a replacement. In addition to this, you have to train new employees, which is also challenging. Finance process outsourcing eliminates these responsibilities from you so that you can focus on producing more revenue.
Your outsourcing provider can even offer you a chief financial officer (CFO) if your organization lacks a CFO. Certain outsourcing providers give CFO assistance, that is, a financial expert who turns out to be a member of your team and offers accounting guidance. This becomes another primary reason that most enterprises consider finance outsourcing to be similar to having CFO insurance. Outsourcing the service helps you by managing the day-to-day, repetitive finance tasks and mitigates the time needed for tactical administration. This provides your administrative team extra time to examine the numbers comprehensively. Then, the outsourced CFO helps accelerate your business toward growth.
Conclusion
In the constantly changing financing and banking sector, staying in front of the competition is not just about saving costs but about strategic adaptability. Banking Outsourcing Services and Finance BPO services provide a comprehensive approach to cost optimization, efficiency improvement, and risk reduction. Regardless of whether it is through Financial Data Management Outsourcing, Banking Operation Outsourcing, or customer service support, BPO offers an exhaustive solution for advanced financial institutions.
By opting for BPO, you will not only benefit from saving costs but also get a partner dedicated to your success. Therefore, BPO is considered a source of financial resilience, innovation, and long-term growth in the finance and banking sectors. Are you seeking to enhance your financial sector effectively? Then, connect with us today at [email protected].