Enhance Your Business Efficiency with OCR/ ICR Services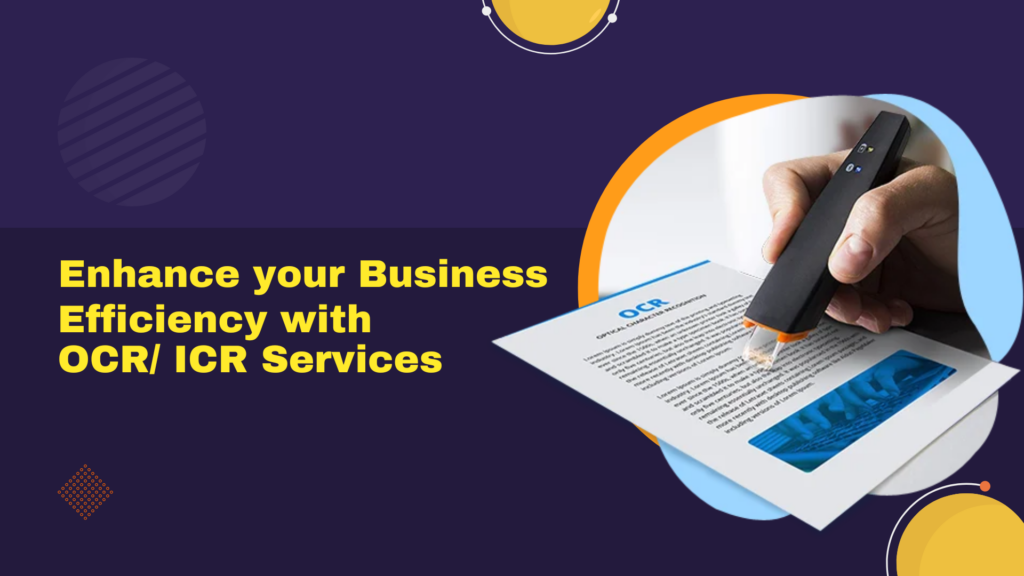 Document management is very important for every business. With accurate and organized document management, these organizations can easily access and organize all relevant data. But most business organizations use the old scanning process to digitize their documents, but it can only create an image of the document. But unless the business equips its in-house staff to manually add this information, the metadata contained within the document, such as client name, date, invoice amounts, and more, is likely to be missing from the image.
With technology innovation, we can find new scanning technologies in the market that can read a document and gather relevant metadata to make the file searchable. This helps a business organization free its in-house team to collect and provide that information manually. Before investing in these technologies, it is important to understand how these technologies work and how they can increase business efficiency.
OCR/ICR in Detail
Optical character recognition (OCR) is a technology that allows you to convert different types of documents, such as PDF files, scanned paper documents, or images captured with a digital camera, into editable and searchable data. On the other hand, Intelligent Character Recognition (ICR) is an advanced version of OCR. ICR is a technology that allows a computer to identify handwritten characters and convert them into computer-readable text. ICR enhances the performance of OCR by decoding a wide variety of handwriting styles to extract data from structured and unstructured texts.
The main difference between OCR and ICR is that OCR is not designed to identify handwriting. As a subset of all OCR programs, ICR is made up of dedicated software applications used to search and classify handwritten documents that have been converted to text. Copying and pasting OCR text into Microsoft word is also possible.
If the business requires accurate and error-free data, ICR is an excellent option for the data capturing process.
How Does OCR/ICR Help in Improving Business Efficiency?
Business requires the assistance of an OCR/ICR scanning service company that can easily convert documents such as resumes, brochures, payroll forms, photos, etc., and black and white text to colored text, paper documents into electronic format, etc.
Benefits of Using OCR Technology in Business Most business firms consider OCR as a significant technology for automating their workflow efficiently. Let's have a look at how OCR service can help business firms to improve their efficiency.
Easy Access
Installing OCR technology in systems enables business organizations to access data quickly. With OCR, information stored in image format becomes text searchable, making access to information much easier. OCR installation makes it easier for the in-house team to search for documents with reference codes and names without even storing a digital version of the document.
With the application of OCR, business organizations can enjoy a greater range of accuracy in the data stored. They can quickly respond to customer queries with the help of OCR which searches through documents to sort customer queries. This will help the business concern to achieve more customer satisfaction.
OCR processing helps to improve user experience by eliminating manual data entry of the business organization. This can help businesses save time, as accessing a digital file is quicker and easier than trying to find a pile of paper documents.
Benefits of Using ICR Technology in Business
Businesses that deal with a wide array of forms, letters, papers, and other documents frequently employ ICR technology. Let's have a look at the benefits of using ICR in business.
Efficient Document Management System
ICR technology helps a business organization manage its documents efficiently. It is difficult for your in-house team to manually process all the documents as it is a tedious task and can negatively affect the workflow of your business. ICR does this automatically to make it well-matched and searchable with an efficient document management system.
Digitizing paper documents can benefit the business organization by saving large amounts of paper and storage space. ICR has made it easy for businesses to easily organize, scan, catalog, and relocate these documents. This will in turn increase the efficiency and productivity of the business and its employees.
Businesses incur a lot of money when it is using manual data entering methods. A huge amount of money has been spent by the business it orders to get its work done. With ICR installed in systems, it enables the business to reduce the operating cost to a great extent.
Choosing an appropriate partner for doing your OCR ICR service enables your company to add tremendous value to your business. Outsource OCR Conversion Services to can liberate your team's heated timetable, boost your turnover, and make your clients satisfied with the quality services you provide.
Outsource your OCR/ICR and OCR document conversion to India Data Entry Help one of the top outsourcing companies that enable to you get access to a pool of talented crew members with first-class technologies.
Wish to know more about our company servicescontact us now or send us a mail at [email protected].