Machine Learning is Revolutionizing Data Entry Processes
Machine Learning (ML) has been pivotal in revolutionizing data entry processes with its prodigious capabilities of detecting and interpreting patterns from past and present data. ML algorithms are widely implemented by every best data entry services company in their processes to identify and extract the fundamental regularities seen in data.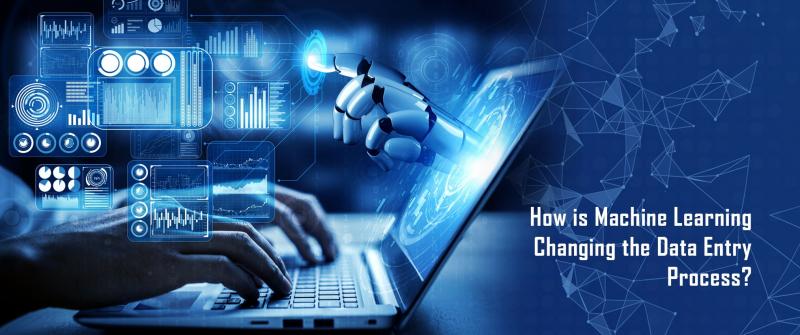 The concerns of the data entry industry regarding data inaccuracy and duplication have been culled down to a wide extent with the help of Machine Learning ( ML ). And its footprint has led to a steady climb in automation procedures which is highly advanced as it highly gets rid of manual errors ensuring precise information that delivers meaningful and actionable insights.
This is why global companies prefer data entry to be outsourced to specialist offshore BPO companies that have implemented this innovative technology. Its necessity allows for large-scale technological and economic advancement. Also, its data prediction and analytical capabilities offer an organization high integration and benefits for business sustainability.
The common benefits of machine learning-powered data entry processes offered to an enterprise are as follows:
Rapid processing saves considerable time that can be invested in core competencies
Streamlined automation provides effortless processes that reduce manual hassles
Precise outputs leave no scope for human errors
Adherence to global compliance and quality standards and these services have become even more cost-effective
Helps to stay ahead of the competition
The way ML Revolutionizes the Data Entry Industry
In-depth analytics offered in data entry outsourced processes accurately interprets and identifies data patterns for extracting useful and actionable insights and information Predictive analysis can filter and sort out valuable business information from huge sets of big data within rapid turnaround times. It can forecast future business opportunities, consumer behavior, and trends so that organizations can tailor their offerings that cater to exact customer requirements. The best data entry services company providing ML-powered solutions helps an organization to make more informed business decisions with accurate information. Hence their efficiency, productivity, development, and growth improve considerably and attains them a leading competitive edge in the global scenario.
Major Benefits of ML-Powered Data Entry Automation
Simulates different scenarios from a huge volume of data sets to discover on-going and future trends.
Accurately interprets and identifies patterns even from highly unstructured data
Provides in-depth forecasts that help in discovering future issues and how they can be tackled effectively.
The best data entry services company helps business organizations to efficiently adapt to the dynamic market conditions and scenarios. This is achieved through re-running all the generated forecasts and discover even the slightest of customer behavior changes or demands.
Saves overhead costs since the forecasts safeguards organizations from these and will not affect the business in any adverse manner thereby highly improving their efficiency.
The above explanations show how machine learning revolutionized data entry processes and the data entry industry towards futuristic competitive advantage in the global scenario. It's no surprise why they choose offshore BPO firms to have their data entry outsourced to the rapidly evolving and progressive business timelines. And ever data entry services company has been providing these quality-oriented and client-centric solutions with peak accuracy in the outputs. It helps global organizations to achieve a leading edge over the competition curve by making informed business decisions through this innovative and technological advancements. And when it is combined with the perfect blend of accomplished personnel, it will undoubtedly lead to critical business success at the highest means of cost-effectiveness in the long run.